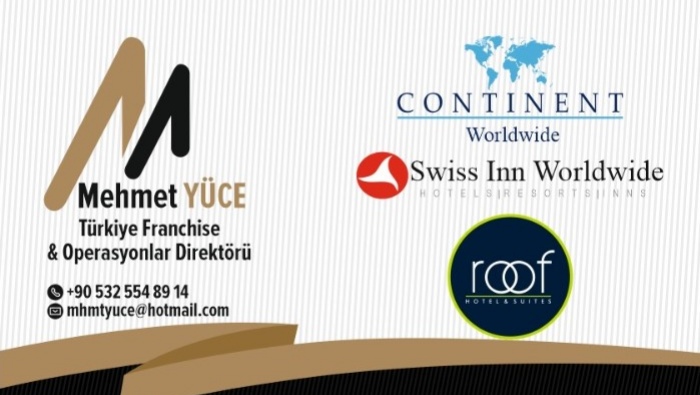 Continent Worldwide Hotels and Swiss Inn Worldwide Hotels brands will grow together with MY Hotel Investment and Management Consultancy.
There are a total of 12 brands in different segments affiliated with Continent Worldwide Hotels and Swiss Inn Worldwide Hotels, which have agreed with Hotel Investment and Management Consultant Mehmet YÜCE to grow in Turkey, the Balkans and the Central Asian Turkic Republics. Informing that they will reach a total of 100 hotels by the end of 2021 with various strategic brand partnerships, direct franchise and management agreements, the company officials stated that they experienced rapid growth in every region through Master Franchise and business development partnerships, and that they were able to reach Turkey, the Balkans, the Central Asian Turkic Republics. He also stated that they are sure that such a partnership will be very beneficial, as they are sure that MY Hotel Investment and Management Consultancy Firm and Mr. Mehmet Yüce are the right partner. "New World Brands Will Bring Life to the Turkish Hospitality Industry" Ethem Zagikyan, Chairman of the Board, one of the founders of Continent Worldwide Hotels; "Since we started to introduce our brand, we have signed nearly 100 hotel agreements with our Master Franchise and Partner companies, with facilities planned to be opened in the next two years and under construction in Africa, Middle East countries, South Asia, Southeast Asia and the Americas. We are watching with satisfaction and excitement that the tourism sector and hotel management are constantly changing but also developing in Turkey, the country where our brand was born.
In the continuation of his speech, Zagikyan said, "We have now decided to spread our appropriate franchise concepts in Turkey, and after this decision, we have decided to move forward with the experienced Tourism Manager, Mehmet Yüce / MY Hotel Investment and Management Consultancy company, in order for our brands to grow in Turkey and the Turkic Republics." Mehmet YÜCE: "We will make a difference!" Mehmet Yüce, who has worked with many national and international hotel brands before; "With this agreement we have made, after years of experience with the working conditions and services of many brands operating in our country, we will offer opportunities that will make a difference to new hotel investments and existing branded hotels with Continent Wordwide Hotels, which is a national multi-brand management and franchise company operating in the international arena. As Hotels, we will help hotel investors and operators expand their sales-marketing networks with the opportunities we will offer to hotel investors and operators in Turkey and the Turkic Republics where we have the authority. We are a country with facilities that provide the best service in the sector and especially in hotel management.In addition, Turkish Managers are now taking charge of the most qualified tourism facilities in many countries of the world, and this number is increasing day by day. In this period when we have such high quality facilities and staff in the tourism sector, we also need hotel brands that will serve nationally and internationally. As Continent Wordwide Hotels, we will quickly fill this gap and ensure that the revenues from these investments, which are our national wealth, remain in our country. I wish these agreements to be beneficial for our company, our brands and our country.
YÜCE: "Negotiations continue!." Mehmet Yüce, who stated that as of the date of the agreement, as MY Hotel Investment and Management Consultancy, determined the target cities and regions in Turkey with the different segment and concept sub-brands of Continent Wordwide Hotels and Swiss Inn Worldwide Hotels, continued his speech with the following words: ; "Within this planning, our first goal is to provide our service by making agreements with a minimum of 30 hotels within 10 years. We opened a hotel in Sakarya in the last quarter of 2020, we signed a contract with 4 hotel projects. We continue to negotiate with all new projects at the hotel. We are also negotiating for rebranding for the hotels that are not satisfied with the brand and the service they receive." About ContinentWordwide Hotels: Continent Wordwide Hotels was established in 2003; is an Istanbul-based private company operating on hotel management, franchise and consultancy. It includes hotel brands with services in six different segments and concepts. Brands: Continent Hotels & Resorts, AncyrA Hotels & Inns, Lofty Collection, Budgetel Inn & Suites, JOMO Hotels & Resorts, Acqua Celeste Hotels & Resorts About Swiss Inn Wordwide Hotels: Swiss Inn Wordwide Hotels, established in 2020 as a sub-branch of Continent Worldwide Hotels ; It is a hotel franchise main brand with six segment sub-brands.